Here at PCES Limited we have a range of welding inspection gauges, suitable for a variety of uses. These inspection and welding gauges are all of the highest quality. They allow you to measure welds quickly and easily, achieving accurate results, every time. All pipefitters should have a welding gauge in their toolbox. With this range of equipment you're certain to find the perfect tool for you.

What is a gauge for welds?
Welding gauges are available for checking alignment, checking dimensions before welding, verifying weld dimensions, and checking porosity of welds. We stock gauges that are both multipurpose or single purpose.

Bridge Cam Gauges
This high quality gauge is manufactured from stainless steel by G.A.L USA. This gauge allows you to take measurements in either millimeters or inches. A bridge cam gauge is ideal for inspections to weld surfaces or joints.
Possible Measurements:
Misalignment
Fillet weld throat size
Fillet weld length
Angle of preparation
Depth of undercut
Pit depth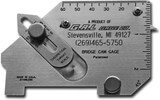 Hi-Lo Welding Gauges
Hi-Lo welding gauges are also manufactured by G.A.L USA and are used for measuring the pipe after fit-up alignment. Different units of measurement can be taken, with inches on one side and metric readings on the other. This gauge measures the internal misalignment of the pipe both before and after tacking.

Digital Welding Gauges
Digital welding gauges are a fast and accurate way of ensuring the quality of your weld jobs takes a digital reading of the weld. This digital gauge takes measurements in both millimetres and inches to suit different requirements. For general fabrication work, this welding gauge is the perfect solution.
There are 4 angles of preparation with this gauge. It can check the angle of the weld groove at;
Economy Single Purpose Hi-Lo Gauges
This gauge is the perfect tool for all pipefitters pockets. This is ideal for determining the rootweld space and internal misalignment of the pipe. The economy single purpose hi-lo welding gauge is a cost effective, easy to use tool that is guaranteed to improve productivity.