External Hydraulic Line-up Clamps (No Tack)
External Hydraulic Pipe Clamps and line-up clamps, also known as Cage Clamps are available in a variety of sizes up to 120″. We offer external 'No-Tack' type hydraulic pipe clamps. No Tack clamps are typically more popular, as they allow an easy full circle weld, without needing to remove or move the clamp. This is a benefit over tack type clamps that has straight across bars and needs to be removed from the pipe before final welding can begin.
These 'no tack' clamps have arched cross bars, that allows the user to properly line up the pipe prior to welding. To accurately align heavier wall pipes you may require a power hydraulic jack. We offer hydraulic jacks that provide a capacity of up to 5-20 ton, and have specials available upon request.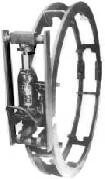 Our hydraulic pipe clamps are available from 8″ to 60″ O.D. If standard isn't enough, our clamps are also available in heavy duty. These heavy duty hydraulic pipe clamps are ideal for industrial applications or as a main anchor point for the pipe.
We also offer a series of Manual or Ratchet version external pipe clamps, which are typically lighter than hydraulic pipe clamps but still offer excellent pipe clamping.
Worldwide shipping is available for all of our products, meaning you can always get the tools for the job, regardless of where you are. We're dedicated to meeting your technical requirements so if there is anything we can help you with please let us know. We want to go above and beyond for your project so talk to us about any custom components we can source for you. We are ISO 19001:2008 approved, so you know you can trust us for your pipeline construction and engineering supplies.