Rim Clamps simplify the toughest reforming jobs and are ideal for applications requiring 100% weld and grind under clamping pressure.
Also allows for extremely accurate fit-up of large diameter pipes and shells.
Jackscrews apply pressure on specific high points to precisely reform and align the pipe or shells. Ideal for applications that require 100% weld and grind without releasing clamping pressure to prohibit cracking of partially completed welds.
The clamp can also be used to round the pipe or shell on which it is placed. All surfaces of the Rim Clamp that contact the pipe are made of stainless steel so that this clamp can be used for nuclear and other similar applications.
The Clamp will reform 45,000psi tensile strength pipes up to Schedule 80, with out-of-round conditions up to 2″ (51mm).
Features:
EXTREMELY ACCURATE fit-up on large diameter pipe or shells.
Hi-Lo—Handles out-of-round conditions up to 2″ (51mm).
EASY ALIGNMENT AND REFORMING—Pressure can be applied to the high point of the pipe or vessel to reform it to the required shape.
VERSATILE—The clamp can be used for steel or stainless steel applications.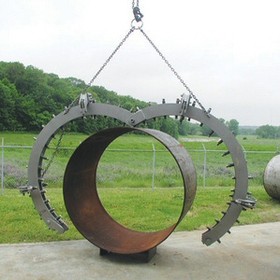 NOTE:
Please provide us with the following information in order to specify the Rim Clamp for your application.
Reforming Rim ClampPipe diameter (inches or millimetres)
Pipe wall thickness (inches or millimetres)
Pipe tensile strength or type material
Horizontal or vertical application
Ambient temperature
Rim Clamp Includes:
Clamp frame
Required number of jackscrews for the clamp size
Flip-Up jackbars for mating pipe
Stabilizer bars
Level and support device attachment point
Clamp wrench
Parts and operating manual
Specifications:
PART NUMBER
PIPE SIZE
RANGE
(in / mm)
REFORMS PIP
TO SCHEDULE*
ALIGNS PIPE
TO SCHEDULE
DIMENSIONS
(in / mm)
EST. SHIPPING WT.
(lbs / kg)
D711-0406
4-6 / 102-152
80
120
18 x 18 x 11 1/2 /
457 x 457 x 292
40 / 18
D711-0608
6-8 / 152-203
80
120
18 x 18 x 11 1/2 /
457 x 457 x 292
50 / 23
D711-0810
8-10 / 203-254
80
120
23 x 23 x 12 1/ 2 /
584 x 584 x 318
70 / 32
D711-1012
10-12 / 254-305
80
120
23 x 23 x 12 1/ 2 /
584 x 584 x 318
90 / 41
D711-1214
12-14 / 305-356
80
120
34 x 32 x 12 /
864 x 813 x 305
120 / 54
D711-1416
14-16 / 356-508
80
120
40 x 48 x 20 /
1016 x 1219 x 508
190 / 86
D711-1618
16-18 / 406-457
80
120
40 x 48 x 20 /
1016 x 1219 x 508
240 / 108
D711-1420
14-20 / 356-508
80
120
40 x 48 x 20 /
1016 x 1219 x 508
280 / 126
D711-1824
18-24 / 457-610
80
120
40 x 48 x 20 /
1016 x 1219 x 508
350 / 158
D711-2026
20-26 / 508-660
80
120
40 x 48 x 20 /
1016 x 1219 x 508
360 / 162
D711-2228
22-28 / 559-711
80
120
40 x 48 x 20 /
1016 x 1219 x 508
380 / 171
D711-2632
26-32 / 660-813
80
120
44 x 48 x 20 /
1118 x 1219 x 508
400 / 180
D711-3036
30-36 / 762-914
80
120
44 x 48 x 20 /
1118 x 1219 x 508
420 / 189
D711-3440
34-40 / 864-1016
80
120
54 x 54 x 20 /
1372 x 1372 x 508
450 / 203
D711-3844
38-44 / 965-1118
80
120
58 x 58 x 20 /
1473 x 1473 x 508
490 / 221
D711-4248
42-48 / 1067-1219
80
120
62 x 62 x 20 /
1575 x 1575 x 508
510 / 230
D711-4450
44-50 / 1118-1270
80
120
62 x 62 x 20 /
1575 x 1575 x 508
610 / 275
D711-4652
46-52 / 1168-1321
80
120
62 x 62 x 20 /
1575 x 1575 x 508
610 / 275
D711-5056
50-56 / 1270-1422
80
120
70 x 41 x 24 /
1778 x 1041 x 610
680 / 306
D711-5460
54-60 / 1372-1524
80
120
74 x 42 x 24 /
1880 x 1067 x 610
750 / 338
D711-5864
58-64 / 1473-1626
80
120
78 x 45 x 24 /
1981 x 1168 x 610
820 / 369
D711-6268
62-68 / 1575-1727
80
120
84 x 47 x 24 /
2134 x 1194 x 610
880 / 396
D711-6672
66-72 / 1676-1829
80
120
86 x 49 x 24 /
2184 x 1245 x 610
950 / 432
Clamp Type
Pipe Tensile
Strength
Material
Pipe Diameter
PSI
Mpa
4″-12″
14″ – 24″
32″ – 48″
50″ – 60″
62″ – 72″
STD
45,000
310
X45
1/2″
3/4″
1″
1 1/8″
1 1/4″"
Pipe Wall Thickness
RIM CLAMP ACCESSORIES

Assembly/Parts
Description
Rim Clamp Size
(in / mm)

JACKBARS
DR-300
4 – 14 / 102 – 356
DR-700
14 – 72 / 356 – 1829

JACKSCREWS
DC-501
4 – 14 / 102 – 356
DR-500
14 – 72 / 356 – 1829

WRENCHES
D900-002 3/4″ / 19mm
4 – 14 / 102 – 356
D900-003M 7/8″ / 22.2mm
14 – 72 / 356 – 1829

LEVEL & SUPPORT DEVICE
DA-400S*
4 – 8 / 102 – 203
DB-400S*
4 – 20 / 102 – 508
DC-400
18 – 72 / 457-1829
DC-400S*
18 – 72 / 457 – 1829
*Stainless steel