The Speedfit adjustable Pipe Welding Clamp offers the most advanced method of achieving quick, easy precise fit-ups, at an affordable price.
Speedfit Pipe Clamps are available in three sizes to cover the range of 1″ to 12″ pipes. The clamp can be used on both Carbon and Stainless Steel Pipes.
The versatility of the pipe clamp design allows untrained operators to align pipe to pipe, pipe to fitting, or pipe to tee quickly and safely.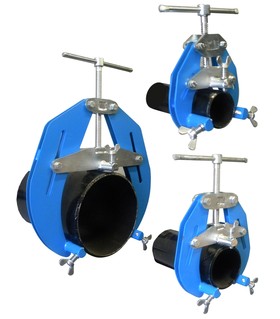 Advantages of Speedfit adjustable Pipe Clamps:
Lightweight rugged construction to withstand rough handling.
Stainless Steel contact points prevent pipe contamination.
Sliding "T" handle for work in confined spaces.
Guaranteed not to bend or break.
Cadmium plated, powder coated to resist spatter.
Very economical.
Specification Table for Ultra "Quick Fit" adjustable Pipe Clamp
| | | |
| --- | --- | --- |
| Part Number | Range Inches/MM | Weight Lbs/Kgs |
| SFC-12 | 1-2 1/2 / 25-64 | 4.5 / 2 |
| SFC-26 | 2-6 / 50-150 | 11 / 5 |
| SFC-512 | 5-12 / 127-300 | 19 / 9 |