We stock a wide range of heavy duty pipe stoppers and pipe sealing plugs which fit a variety of pipe sizes and high pressure testing.
Steel Pipe Stopper, Sealing Plugs
Cost effective durable Steel Testing Pipe Plug with Single Rubber Seal for carrying out Water and Air Tests in all types of Pipelines. Combines the economy of price with the strength of steel.
Available from 40mm up to 450mm.
Pressure Plates are made of steel pressings. Bottom Pressure Plate is welded to the Waterway to give a gas tight seal.
Rubber Seals are commercial grade rubber mouldings. Chemical resistant Rubber Seals can be supplied.
Thrustwashers are fitted as standard on all sizes.
All steel components are zinc plated – corrosion resistant to 90 hours salt spray test.
Larger size Multilock Test Plugs available from 425mm up to 3,000mm. on request.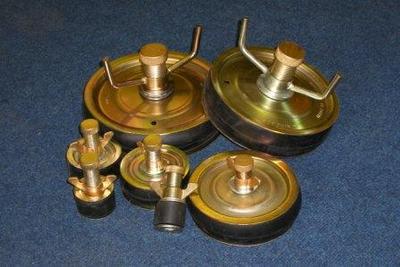 Aluminium Pipe Stopper, Sealing Plugs
The Nylon Plugs can be used in clinical applications, nuclear, ship building, aerospace and the food and dairy industries.
Available from 50mm up to 150mm diameter.
Superior design – easier to use.
Can be used for testing up to 7p.s.i.
Easy to sterilise