Accurate cutting and bevelling
Download Product PDF

Experienced and inexperienced welders can improve their productivity, accuracy and cut quality with the Mathey Dearman Short Saddle Cutting and Beveling machine. The integrity of design and the quality of the components enable the machines to produce the most consistently square and accurate cuts year after year. Available in manual or motorised models to cut pipe from 1.5″-48″ (38mm-1219mm).
Components are crafted from state-of-the-art aluminium alloys.
Light weight, compact and portable
Durable and substantially resistant to both extreme heat and cold.
One piece saddle design makes the machine resistant to stress and warping.
Spacer bolts or step spacers are located on either side of the ring gear to make it one of the most accurate machines on the market today.
Machine can be positioned closer to valves and other fittings because of the short saddle design
Motorising kit can be attached to the machine by a person with little or no mechanical experience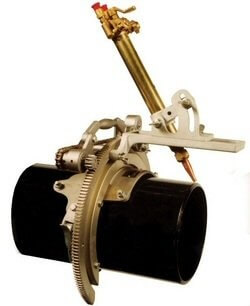 Dependable and tough, the Saddle Machine was specifically designed for critical pipe applications that require a high degree of cut quality and accuracy.
The lightweight, durable machine has been known for more than 70 years as the standard in the industry due to its long life, reliability and cutting accuracy.
Both inexperienced and experienced welders can improve efficiency, accuracy and cut quality.
Models available for pipe sizes 1 1/2″-48″ (38mm-1219mm).
Manual and motorised versions available.
[/col-6]

Features:
PORTABLE—The light compact unit is an excellent tool for shop or field applications.
ACCURATE—The spacer bolts, located on both sides of saddle, give the machine the accuracy required when cut quality and accuracy is critical.
EASY SET-UP—Requires little or no operator skill or training to set up and achieve an accurate cut.
PROVEN—The saddle, ring gear and cap ring are made of aluminum that is hard anodized to maintain accuracy and provide long-lasting durability.
ADAPTABLE—Can be used with oxy/fuel or plasma machine torch with 1 3/8″ barrel diameter.
BUILT TO WITHSTAND the construction, fabrication and welding jobsite environment.
Up to 80% FASTER than hand cutting and grinding.
Contour Cutting Attachment
The Contour Cutting Attachment with templates when added to the Saddle machine enables the welder to produce perfect Mitre and Saddle cuts. Simply change the template to alter to alter the pipe end Saddle or Mitre configurations.

Saddle Machine Kit includes:

Base machine
Fully adjustable torch arm
Torch carrier assembly – for mounting of torch arm
Spacer bolts or step spacers are required to mount the machine to different pipe sizes
Parts and operating manual
6SA and 8SA also includes extension plate and spacers
The extension plate and spacers lower torch arm and torch carrier assembly in relationship to the surface of the pipe, so the smaller diameters can be cut with a 10″ plasma or Oxy/fuel machine torch.
Not Included:
Machine cutting torch
Storage box
Mathey Dearman Saddle Clamp Specification Table
Machine Model
MSA
1SA
2SA
3SA
4SA
5SA
6SA
8SA
Part # (Manual)
03-0100-000
03-0101-000
03-0102-000
03-0103-000
03-0104-000
03-0105-000
03-0106-000
03-0108-000
 Part # (Motorised)
03-0100-M00
03-0101-M00
03-0102-M00
03-0103-M00
03-0104-M00
03-0105-M00
03-0106-M00
03-01081-M00
Pipe Size
in / mm
1.5-4 /
38-102
3-8/
76-203
6-12/
152-305
12-20/
305-508
20-26 / 508-660
24-30 / 610-762
28-36 / 711-914
40-48 / 1016-121940-48 / 1016-1219
 Net weight
lbs / kgs
10 / 5
16/7

26/12
50/22
78/35
105/48
180/82
210/95
Shipping weight
lbs / kgs
 14/6
25/11
36/16
80/36
146/66
183/82
250/113
 376/171
 Shipping dimensions
in / mm
12 x 12 x 10
305x305x254
18x18x11 1/2 /457x457x492
23x23x12 1/2 /584x584x318
34x32x12/ 864x813x305
45x45x18/ 1143x1143x457
45x45x18/ 1143x1143x457
58x48x18/ 1473x1219x457
70x62x21/ 1778x1547x533
Max Speed (motorised)
ipm*/m-mm**
141 / 3581
60 / 1524
89 / 2261
47 / 1194
53 / 1346
34 / 864
35 / 889
366 / 914
Min Speed (motorised)
ipm*/m-mm**
4 / 102
4 / 102
6 / 152
7 / 178
7 / 178
8 / 203
5 / 127
5 / 127
Includes Spacers to cut pipe sizes ***
2″, 3″, 4″ / 51, 76, 102mm
3″, 4″, 6″, 8″/ 76, 102, 152, 203mm
6″, 8″, 10″, 12″ / 152, 203, 254, 305mm
12″, 14″, 16″, 18″, 20″ / 305, 356, 406, 457, 508mm
20″, 22″, 24″, 26″ / 508, 559, 610, 660mm
24″, 26″, 28″, 30″ /610, 660, 711, 762mm
28″, 30″, 36″ / 711, 762, 914mm
40″, 42″, 48″ / 1016, 1067, 1219mm
*inches per minute
 **mm per minute
***Optional Spacers available to cut other pipe sizes
A full catalogue of all Mathey Dearman Products is avaialbe for download from here:
Mathey Dearman Catalogue
Please be aware this is a large PDF file (35Mb)